Suzuki TM400 information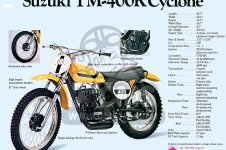 The TM400 was announced for the 1971 season, and was an almost exact replica of Joel Roberts World championship winning model. This first model gave 35hp @ 6500 rpm with a five speed gearbox and weighed a commendable 107kg.

It was replaced in the following year with the TM400R 'Cyclone'; this coincided with the signing of the Belgian Moto-Cross star Roger De Coster late in 1970. The 'Cyclone' had a massive power increase, now up to 40hp @ 6500rpm. Interestingly this was the first Japanese moto-cross machine to be mass-produced.
This TM400 was however not so good in the handling department, the chassis and suspension having little to do with Roger De Coster's championship winning machine, and was better suited to open desert racing.

People like Eric Cheney in the U.K and Redline Engineering in the USA with after market frames and more finely tuned suspension, with longer rear-travel addressed this problem.

The TM model is mow relatively rare and desirable as one of the most competitive pre 1974 twin-shock models being the most powerful available then and now!

The TM series bowed out in 1975.

Suzuki TM400 photo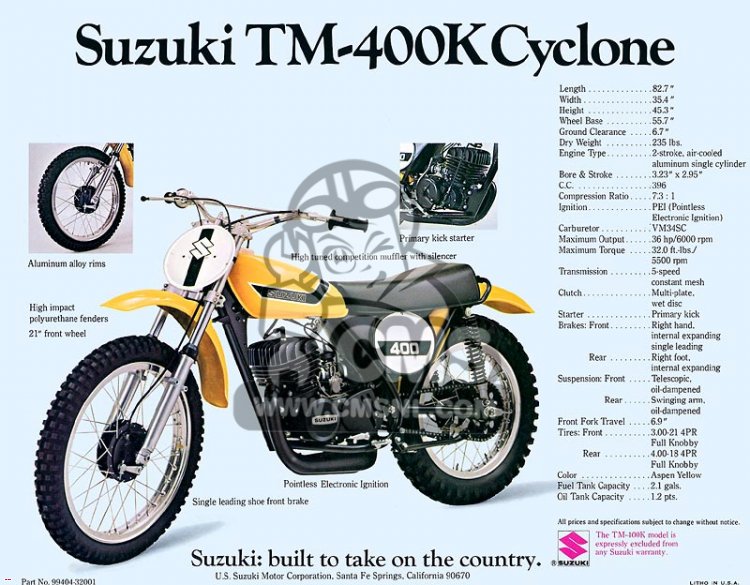 Suzuki TM400
Suzuki TM400 owners
Here is a list of machines proudly owned by our community members, that are the same or similar to this machine.
other info