Yamaha YZ360 information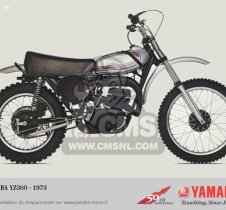 The YZ350, like it's close relative the YZ250, was introduced in 1975, and in very limited numbers, and was extremely expensive at that time.
These were virtual 'works' machines available to the public, and owed almost nothing to the far easier to buy MX models also produced at that time by Yamaha.
Inside the motors everything was drilled and lightened. Gears , clutches, frames, wheels, forks, tanks and seat were all works items, even the right side clutch case was magnesium, and the red coloured cylinder bolts were titanium!
Costing almost half as much again as the outwardly similar MX models, if you were serious about winning, and did not have a works machine, then this was the bike to get you noticed………assuming that is you had the skill to take best advantage of the fastest non works machinery out there!
One more thing to mention, Yamaha recommended you renew the piston rings after every race……….as it was not possible to re-bore the barrel!

Yamaha YZ360 photo
Yamaha YZ360
Yamaha YZ360 owners
Here is a list of machines proudly owned by our community members, that are the same or similar to this machine.
no vehicles found Yamaha YZ360. add your Yamaha YZ360
other info