Suzuki XN85 information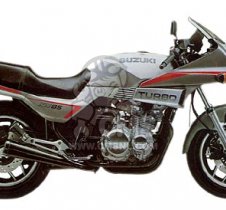 In the late 1970s and throughout the mid 1980's turbo-charging was the name of the performance game for car manufacturers and of course in Formula 1. Both BMW and Honda produced engines of just 1500cc, which gave on full qualifying boost well over 1000bhp!

Motorcycle manufacturers sought to follow suit, with all the four players offering fast but very flawed machinery. Turbo-charging was not the refined art found on today's Hi-speed Diesels from Italy, Germany and France.

The XN85 Turbo announced in 1984, in common with other 'turbo' models achieved only limited sales success, the extra power being soaked up by the extra weight of the turbo and its associated plumbing. Turbo lag was also a problem; much more so on two wheels, where power suddenly kicking in the middle of a bend could prove disastrous!

This particular effort from Suzuki was no better or worse than the others. Its power was rated at 85hp from just 673cc; today of course normally aspirated 600cc machinery can almost double that!

Suzuki XN85 photo
Suzuki XN85
Suzuki XN85 owners
Here is a list of machines proudly owned by our community members, that are the same or similar to this machine.
other info