Spare parts for Suzuki TS125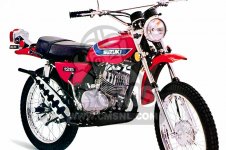 The TS125 two-stroke single was introduced to the Japanese home market in late 1970.
It had five-speed gearbox, and an upswept exhaust. The 13hp @ 7000rpm engine was good enough for...
[ Read more ] This is the main page for TS125 spare parts and aftermarket replacement parts.