Spare parts for Suzuki LT500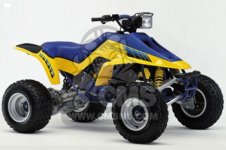 "You glance into your competitor's eyes and see concentration and concern. But you smile with confidence. Because you're on the Suzuki LT500R. Almost 500cc of muscle ready to lead ahead...
[ Read more ] This is the main page for LT500 spare parts and aftermarket replacement parts.