Suzuki DR-Z110 information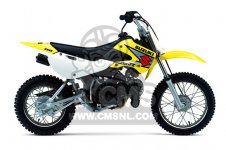 The DRZ110 was introduced in 2003 as an entry-level four-stroke off-road model for novice riders. Weighing just 64kg this model was ideal for it's intended audience.

The SOHC 111cc single cylinder engine is tuned to produce responsive, easy to control low rpm power.

It is fitted with an automatic clutch and three-speed gearbox for ease of operation, and a neutral-only starting system.

The adjustable throttle enables a limit on performance to be set according to the rider's ability.

Suzuki DR-Z110 photo
Suzuki DR-Z110
Suzuki DR-Z110 owners
Here is a list of machines proudly owned by our community members, that are the same or similar to this machine.
no vehicles found Suzuki DR-Z110. add your Suzuki DR-Z110
other info