Kawasaki BJ250 information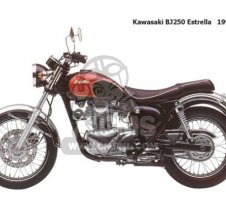 The BJ250 Estrella launched mainly for the Japanese home market in 1996 is a single overhead camshaft single cylinder two valve four-stroke. The retro design has proven popular in Japan, with a great many after market customising and tuning goodies available form Japanese tuning companies like *Daytona and Over Racing.
A custom and sport version have been produced, the custom having a 200mm twin-leading shoe front brake, the sport version been fitted with a disc.
Although not blessed with a huge amount of power, the engines can be up-rated with high performance CDI units, bigger bore carburettors and free flow exhaust systems.
The machine is still in production at the time of writing, with Suzuki, Kawasaki's trade partner also producing their own version, still maintaining that almost vintage 'British' look of Royal Enfield 250cc Crusader and BSA Starfire 250 models!
Although sold in to the German and some other European markets in the 1990's, the Estrella is now only sold in Japanese and Asian markets, some finding their way to Australia. Shame it is such a pretty bike!

Kawasaki BJ250 photo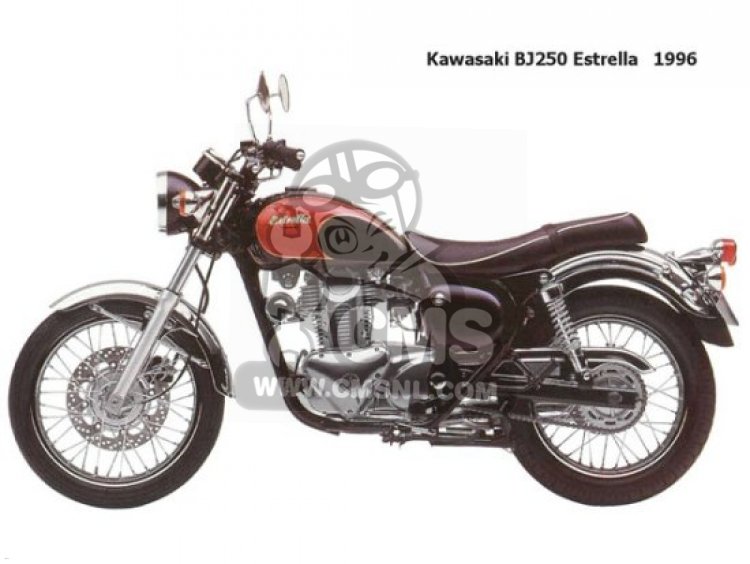 Kawasaki BJ250
Kawasaki BJ250 owners
Here is a list of machines proudly owned by our community members, that are the same or similar to this machine.
other info