Honda VT500 information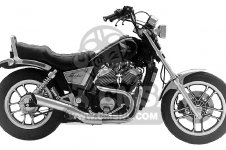 Made from 1982 to 1986 this 50bhp replacement for the ageing CX series was popular with despatch riders, even with out proper servicing could cover 50,000 miles, and with regular oil changes 75,000.

Much faster better handling and with a better balanced appearance than the CX500 this 110mph 180 kg machine was about the best middleweight cruiser of the period, and those that have not been ridden into ground, and have been serviced correctly still command surprising values on the second hand market.

Honda VT500 photo
Honda VT500
Honda VT500 owners
Here is a list of machines proudly owned by our community members, that are the same or similar to this machine.
other info