Honda CD175 T4 CANADA information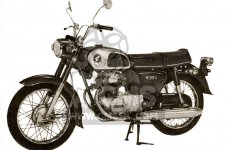 Frame # 3014668 ~
Engine # 3015018 ~
This is the Honda twin that so many people remember with fondness. The 1967 CD175A model retaining real collector value for prime examples. Although designated as a CD touring/commuter, the A 'Sloper' model, with the CB160 based centre cam chain engine was a joy.

It's 17ps from a fuss free single carburettor head propelled the lightweight machine to far greater velocities than might be expected, in fact it gave little away to the CB160 in performance, and the pressed steel backbone chassis was both light and strong.

The engine was a four speeder, and was not fitted with an electric start, the casting being blanked off at the point where the starter motor would have fitted. The CD175 continued on with the new upright engine, and in the now universal full cradle frame, used on CB175 sports models as well.

This machine has the honour of being Honda's longest running twin, and sold particularly well in the U.K purely as a commuter, the extra weight of the new chassis and a 2bhp power drop taking the edge off the original A models performance, although some say the camshaft profile was also reduced a little for more reliability!

Honda CD175 T4 CANADA photo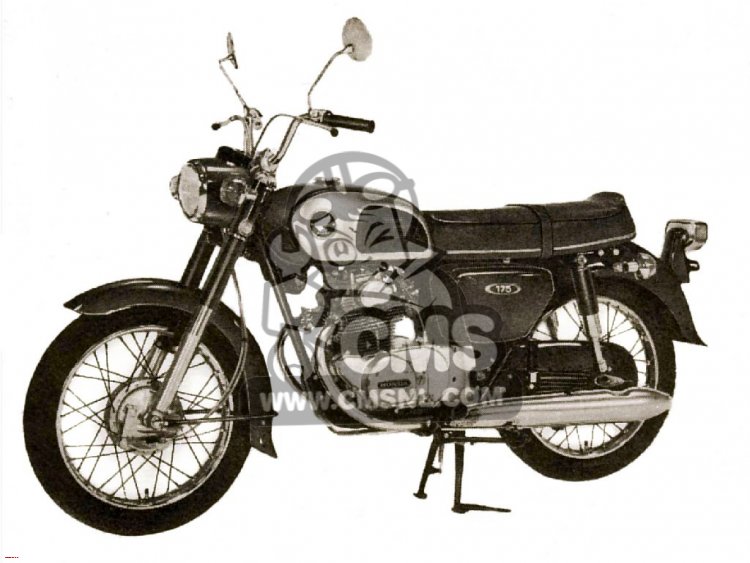 Honda CD175 T4 CANADA
Honda CD175 T4 CANADA owners
Here is a list of machines proudly owned by our community members, that are the same or similar to this machine.
other info