Unit, Tail
---
: 33701-045-690

: 33701045690

New, superb genuine Honda rear light assembly. This part is suitable for many classic Honda mini bikes, and sometimes in the event where your classic is not covered by this part, fitting these is better than fitting nothing, or worse, damaged or corroded items.
For all your Honda mini bike requirements, whether original or custom, we believe you will find it at CMS. We stock more OEM, NOS, and after market parts than any other European specialist.
Check out our Mini Bike web sites as well as Takegawa and Over Racing, for whom we are the European distributors.


Read more
alternatives
alternatives for Unit, Tail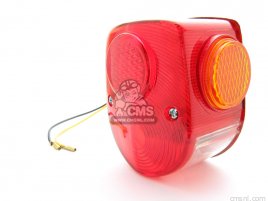 High quality replacement taillight unit from Rising Sun Racing Parts, a CMS Brand ..
---
Unit, Tail reviews
Reviews for the Honda Unit, Tail
---
2 of 2 voters found the following review helpful:
original parts
reviewer: Rives Paul
(5 Stars) - Tuesday, November 04, 2008
This is an original part. It exist many copies but the quality and the design isn't good. So for 20€ more prefer original part and you will not have problem to put on you dax.
---
2 of 2 voters found the following review helpful:
Just perfect
reviewer: Patrick Dhers
(5 Stars) - Wednesday, January 09, 2008
This tail unit is perfect, you can order it without any doubt.
write a review
write a review
write a review for Honda Unit, Tail .
ratings
here is how people rated the Unit, Tail.
4 visitor(s) voted a review about the UNIT,TAIL to be helpful. Of the total 4 vote(s), there was/were 0 vote(s) recorded that did not find a review not be helpful.
---
forum
If you want to discuss this UNIT, TAIL, please go the forum and post a message.