The world's fastest monkey (?)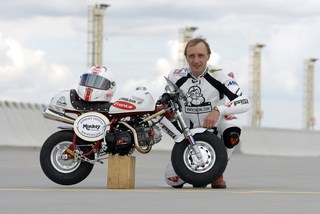 9 times Dakar rally competitor Ivo Kastan has been inspired by the biographical film of New Zealander Burt Monroe with Anthony Hopkins in the title role, to participate in the Bonneville speed week. His idea started to evolve with his successful participation in the 2008 Bajas European championship. For this series he raced a Pit Bike with a Monkey Bike engine prepared by the German tuning specialist TJR Motorsport. With an engine displacing only 142cc and racing in the 250cc four-stroke and 125cc Two-stroke class he won the series!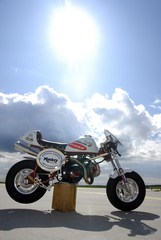 The power of this race winning engine so impressed Ivo that he decided to go for the Monkey bike land speed record and the naked 175cc four-stroke land speed record at the same time with a similar engine running alcohol in a Honda Monkey Mini Trail special.
As the first Czech ever to race at the famous Bonneville Salt Flats Ivo will be emulating Burt Monroe whom to this day still holds many speed records. Ivo hopes his 28bhp Monkey will beat Phil York's 1974 record run of 96.618mph. But Ivo will not be satisfied with that as he also hopes to beat the naked 175cc 4-stroke record by exceeding 106mph!
His machine has a replica of the early 'hard-tail' frame, as he believes rear suspension is irrelevant on a straight-line speed attempt. Drum brakes are retained to allow a gradual speed reduction without the 'drag' of disc brakes. Takegawa forks and a steering damper, essential to help stop high speed 'tank slappers' is just about all the machine requires. The highly tuned TJR Motorsport engine is based on a 110cc Honda unit and runs an oil cooler which should preserve the engine long enough to complete the required, and hopefully record breaking runs.
Low rolling resistance tyres with Daytona alloy sports wheels, supplied by sponsor CMS, the Dutch Mini Bike parts specialist, complete the picture.
Trial runs at Ivo's local airfield have given promising results of speeds of just under 100mph. Ivo believes that with the seat pushed back 7cm or so should reduce the aerodynamic drag enough to crack 106mph.
Ivo will leave with his ever-supportive wife Vierka on the 24th August for Bonneville. We will report on Ivo's record attempt as soon as it happens! Meanwhile we are sure all you Monkey Bike enthusiasts reading this will join us in wishing Ivo Kasten our very best wishes and good luck in this unique speed record attempt.
Check out the The World's fastest Monkey
Technical information:
Prepared by Ivo Kastan – Marron Racing s.r.o. Czech Rep.
Frame: Honda Monkey Z50A – prepared by MTTuning CZ
Front fork and steering damper: Takegawa
Engine: Honda Nice prepared by TJR motrosport Germany
Cubic capacity: 175 ccm
Carburettor: Mikuni VM 28
Ignition: PVL Germany
Tyre: Mitas 4/8" prototype – special high-speed
Wheel rim: Aluminium Daytona 2,5/8"
Brakes: drum Honda Monkey
Chain: DID 420
Sprocket: 1:1 Chiaravalli 18/18
Air filter: KN
Handlebar, footrest, pedals: ARP CZ
Grip, throttle: Daytona
Levers: Domino
Plexi: Piuig
Seat: Moto Forza
Seat cover: DDTuning CZ
Fuel tank: Honda Monkey
Additional footage:
Photo Gallery
Photo gallery