Pipe Handle Cb750k0 Four (general Export)
If you are lucky enough to own and run a classic Honda CB750KO or K1, then you might consider replacing those less than perfect old handlebars with a beautiful brand new Honda item with a perfect lustrous chrome finish.
You may even like to buy one to keep, should availability be compromised in the future or for that other old Classic Four awaiting restoration at the back of your garage?
It is unlikely any other Honda specialist in Europe stocks more for these iconic Honda's than CMS, try browsing our online 'parts list' fiche and access parts availability and prices, all backed up by our class leading service and low priced shipping costs.


Read more
alternatives
alternatives for Pipe Handle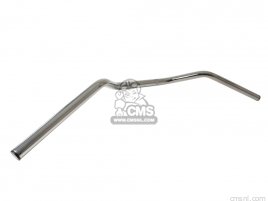 You asked - we listened! This perfectly engineered handlebar, for arguably the greatest of all classic Honda motorcycles, is now available again. The qual..
---
customers who bought this, also bought
Customers who bought the CB750K0 FOUR (GENERAL EXPORT) PIPE HANDLE also bought these products:
---
Pipe Handle reviews
Reviews for the Honda Pipe Handle
write a review
write a review
write a review for Honda Pipe Handle Cb750k0 Four (general Export).
ratings
here is how people rated the Cb750k0 Four (general Export) Pipe Handle.
3 visitor(s) voted a review about the PIPE HANDLE to be helpful. Of the total 4 vote(s), there was/were 1 vote(s) recorded that did not find a review not be helpful.
---
where used
The Pipe Handle appears in these Cb750k0 Four (general Export) parts lists:

used 1 x in Handle - Top Bridge
related products
---
forum
If you want to discuss this PIPE HANDLE, please go the forum and post a message.For questions about Honda Cb750k0 Four (general Export), please write a message in the forum.
Pipe Handle forum
Posts from the Honda PIPE HANDLE forum
Re: handlebar
Handlebar is exact facsimile of the original part - in every detail including wiring holes.
handlebar
hallo my question about the handlebar is if it has the right holes underneath for the wiring.